View all posts
Bank of Tescott Held Give Back Event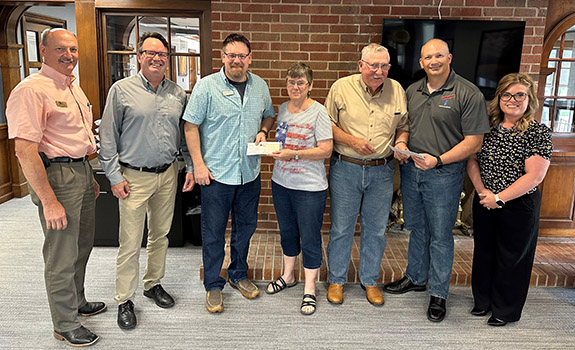 The Bank of Tescott's vision statement is "Committed To Those We Serve," which includes our commitment to our communities. The bank held a GIVE BACK EVENT not only to spread awareness of our FREE reward checking accounts, but also to give back to the communities we are a part of. Each of our five branch locations had two cash winners who chose a local non-profit the Bank of Tescott would gift a matching donation. Gypsum Lions Club, numerous local animal shelters, Blessed Hope Family, The Art Room of Marquette, Bennington Family Center, The Lincoln Senior Center, Lincoln County Food Pantry and Summer Café were a few recipients of the matching donations.

The grand prize winners from the event, Glenn and Barbara Walker, also gave back their winnings! The Pregnancy Service Center and Salina Rescue Mission each received $500 donations!? Thank you, Glenn and Barbara Walker, for making a positive impact on these organizations!

"When our communities succeed, we succeed. As a business in our communities, we are invested in the local school districts and non-profit organizations in the communities we serve. We not only give monetary donations, but our employees give their time and talents to volunteer when and where needed. We may not always be on the cutting edge of technology or provide the coolest app in the banking world, but when our customers are in a time of need, we are there for them and do what we can to help," Kathy Schwertdfager, Executive Vice President and Chief Operating Officer.